Our Pilates grip socks are suitable for a range of activities
Our high quality grip socks have been made to provide the ideal amount of grip and balance from your toes to your heels. This makes Stealth Movement Pilates Grip Socks ideal for a wide range of activities, from pilates and trampolining, to yoga or on slippery surfaces around the home.
Made with high quality materials
Stealth Movement Pilates Grip Socks are made using high quality cotton blend materials. This ensures a firm fit that maintains its shape overtime. Our grip socks are machine washable and do not shrink, lose shape or colour.
Suitable for workouts indoors
Our sticky dot patterns are designed to maximise distribution across your entire foot, making it the perfect addition when doing yoga, pilates or indoor exercise. Pilates Grip Socks, for all kinds of movement.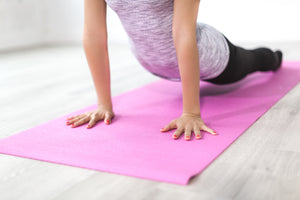 Testimonials
"Since using Stealth Movement Pilates Grip Socks I now feel more confident in my workouts without the fear of slipping or falling. It is the perfect addition to my workout."
Wendy - Yoga Instructor
"I've been using grip socks for my pilates workout for years and none have come close to providing this much grip and comfort." 
Mark - Pilates Instructor